6/23/2021
Megan Doolittle, RN, nominated as a Healthcare Hero by the SDAHO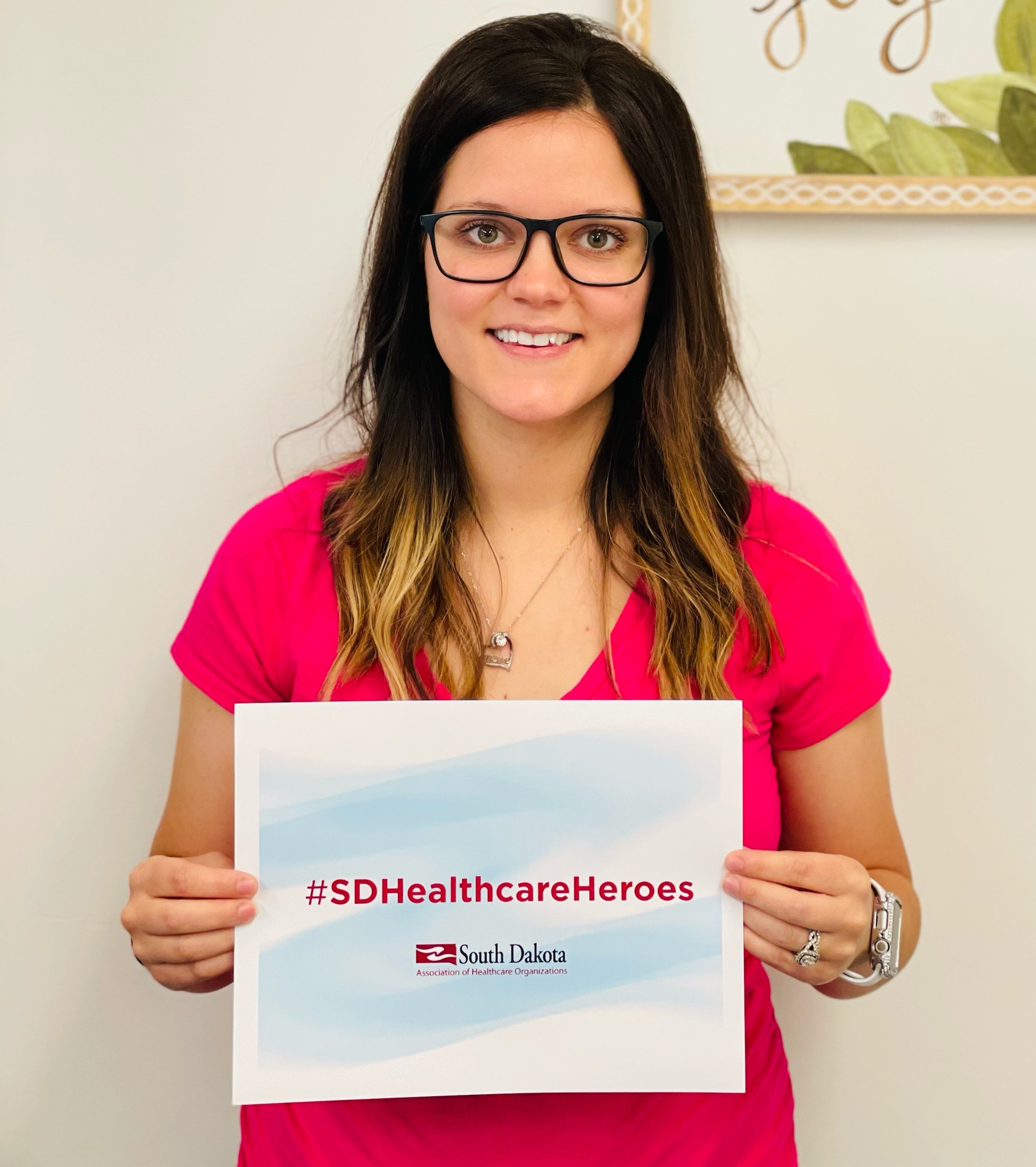 For many who work in the healthcare, they will tell you the greatest honor is to live to serve others. Megan Doolittle a registered nurse, resident care manager and social services designee lives by that philosophy. That is why SDAHO has chosen Megan to be this week's healthcare hero. The SDAHO Healthcare Hero campaign is designed to recognize and celebrate healthcare professionals across South Dakota.
As the Resident Care Manager, Megan knows it is easy to get caught up in paperwork; however, she has made it a priority to connect with her patients daily.  "I know resident care comes first and I enjoy being able to jump on the floor and have hands-on interaction with the residents and staff."  Those who work alongside Megan say even though her time in the long-term care setting has been short, she has made an astronomical impact on everyone she connects with. "Megan is always upbeat, positive, motivational and sincere. She has amazing nursing skills and has always been on the lookout to help improve the lives of the residents in our nursing home." Denise Buchholz – Philip Nursing Home
Megan's family moved to Bison, South Dakota from North Dakota when she was a small child. She has called the Rushmore state home ever since.  As a child, Megan knew she wanted to work in healthcare some day and she credits her older brother Curtis for inspiring her to enter the healthcare field. "My parents called my brother the million-dollar baby. He was born with Down Syndrome and required an extreme amount of intensive care throughout his journey.  My parents had to learn how to take care of a feeding tube, and many other things that I called my brothers accessories." Megan said she was able to go to many of her brother's doctor appointments and she learned at a young age how essential it was to have healthcare.  Megan also recognizes that without advancements in modern medicine and a dedicated and skilled healthcare team helping her brother and her parents, her brother would probably not be here today.
Long term care facilities were hit extremely hard during the pandemic. It was a difficult time for many but even so, Megan says there were times during the pandemic that relationships were strengthened.  "COVID-19 affected my position, but it more so improved my position. We were constantly calling family members to update them on the pandemic and how things were going in the nursing home. That strengthened the relationships with the family and the staff." Megan says the Philip Nursing Home team spent hundreds of hours testing the staff and residents in addition to reporting information to the SD Department of Health.  "When COVID was detected in the nursing home, Megan wasted no time in protecting our residents and staff. She spent many hours calling families, contacting providers, and helping the staff to mitigate COVID in our facility". – Denise Buchholz – Philip Nursing Home
Her colleagues say due to Megan's perseverance and dedication to her residents, families, and staff, she became essential to the efforts of controlling, containing, and healing the residents who were sick during that time. As our world moves toward a new normal, Megan knows that some safety precautions will remain for a while, including the wearing of face masks and screening residents and staff. Even so, Megan has recognized how important human touch is for those being cared for at the Philip Nursing Home, and the care team continues to make the residents a top priority.  "Her heart is as big as the sky and her hands are filled with the kindest touch.  Megan strives every day to make this world a better place, and she shows this by helping those most in need…the Resident's, their Families, and our Staff." – Denise Buchholz – Philip Nursing Home
When asked how she feels about being called a healthcare hero, Megan is very humble. "I am beyond honored to be chosen to be a healthcare hero. I also feel there a lot of more professions that could share this. It takes many components to make it work just like in the healthcare systems.  I cannot thank my family, my team and South Dakota enough for this honor. It is great."
Megan Doolittle, thank you for all you do and congratulations on being a SDAHO healthcare hero.
If you know someone that is a healthcare hero and would like to nominate them, visit us online and nominate them today. https://sdaho.org/heroes/
#SDhealthcarehero